Applications / Rehab
Your
patients

deserve the best
State of art equipment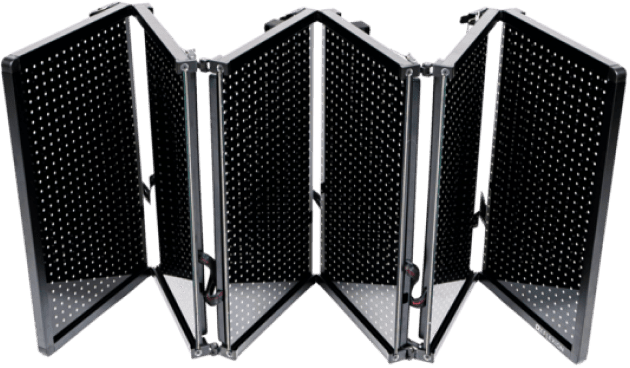 Dimensions
Thickness: 1.5"
Expanded Width: 69''
Weight: 35lbs
Collapsed Width: 12''
Height: 21.5''
Measurements
Reaction time within 0.1 milliseconds
Accuracy within 0.1 millimeter
Average setup time 4 minutes
Screens
6 capacitive touch screens
2,600 LEDs
Something For All Patients
Every aspect of our exercises are configurable because every patient has unique needs. If you're not sure where to start, we provide templates as a baseline.
Track and Show Outcomes
Use Reflexion's service to track changes in neuro-cognitive skills. Even features like "personal bests" keep the patient excited about progress.
A Wide Reach
The Edge's 6 foot wingspan covers a patient's full field of view, while engaging full body, or "functional," movement. This means Reflexion can even be used to offer neuro and orthopedic rehab.
Premium Touchscreen
Technology
Reflexion uses state of the art projected capacitive touchscreens made of premium borosilicate glass for unparalleled durability and performance. They look and feel just like your iPhone.
Keep Patients Engaged
Reflexion's drills are all designed to be short, fun, and customizable. Engaging exercises keep compliance high and your patients excited about therapy.
How does reflexion work?
Reflexion works by training and tracking specific visual and cognitive skills that play vital roles in sports performance and injury prevention alike. We call these skills cognitions and they are trained by completing drills.
Drills
Reflexion offers a growing list of cognitive training drills designed to train specific sport-related cognitions.
They are fast, fun, and effective and easily fit into any workout.
learn more
Cloud Based Analytics
that streamline your practice
Doing our drills is just the beginning. The Reflexion Service lets you select the drills that matter most and track your patient's performance over time right from your iPhone or iPad. It's really that easy.
Not sure what cognitions need to be improved? Leverage our carefully designed templates to assess the strengths and weaknesses of your patients.
Ready
to learn more?